We are your trusted experts when it comes to dating. We want to give you the best dating advice in the world. We also want to steer you in the right direction in terms of the best and worst places to find your match.
Today we are going to review eHarmony.com
We have to give you a disclaimer because we have both worked with eHarmony as dating experts and matchmakers. Of course, we are biased towards their services.  We also have insider's knowledge about the inner workings of their system, matching practices and client outcomes.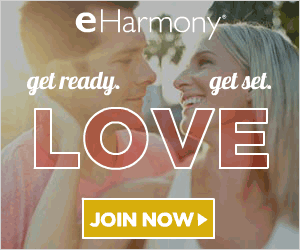 eHarmony is one of the largest online dating sites in the world. It has over 20 million registered users and has geographic targeting that can help you find the right match for you in your area.
What We Like About eHarmony.com
eHarmony has a leg up on most other dating sites because they match people based on compatibility. Most other sites only match you based on location, age range and maybe a few other criteria you can select.   eHarmony matches you at the core level based on your personality, values and beliefs. Through Dr. Neil Clark Warren's 30+ years as a psychologist and extensive research, eHarmony has identified 29 dimensions of compatibility that they use to find your perfect match. We've personally worked with Dr. Warren and can tell you he is one of the best relationship psychologists in the world.
eHarmony.com has been around a long time and is a well-known online dating website. It is also one of the largest online dating websites and has a very large database for you to search in.
The size of the user base is important because you want to have the most options to choose from.
eHarmony's goal is to help you create a fulfilling, long-term relationship with a highly compatible partner.  They don't do hookups or casual dating.
Also, because of their longer personality questionnaire and higher monthly fee's, the site has much fewer cheapskates, tire kickers and scammers.
In fact, they have a complete trust and safety department dedicated to removing scammers from the site.
What We Don't Like About eHarmony.com
The site is sometimes perceived as a Christian dating site, which is not true.  The company is sometimes perceived as a site for older more religious people.  This isn't true but is something the company will have to deal with for future success.
Having insider knowledge, we can share that this a myth and the site serves a wide range of members.
Who is eHarmony.com Ideally For?
eHarmony is a great site for anyone who is seriously looking for a long-term, committed relationship and who cares about lasting compatibility.
It's the site you want to use if you want to divorce-proof your future marriage as much as possible.
The site caters to heterosexual relationships.
The site is large enough that you would be hard-pressed not to find great matches on eHarmony.com no matter where you live and no matter what you are looking for.
It's also a good site if you are looking for a serious, committed relationship and not just a random hookup after downing shots at the bar.
We recommend you choose one large paid online dating site to join and use.  Right now the best two sites out there like this are eHarmony.com and Match.com.  You can't go wrong with choosing either one to use.  The main difference between the two is how you search for matches and that eHarmony looks to match you based on deeper personality characteristics.  With Match.com you can search for more matches at once and search through their entire databese, whereas eHarmony limits your matches to a certain number per day.
If you are someone who struggles with searching through so many matches or gets caught up in the grass is always greener way of searching, then eHarmony is better for you.  If you can manage searching through an unlimited number of potential matches then Match.com might be a better fit for you.
Overall, we give eHarmony a great recommendation and often help our client's use the site to find a great match. The great news is that we are experts at navigating the site and are here to give you all the insider tips.
If you want to sign up right now for free click here….
Find someone who brings out the best in you. Join eHarmony today!
Say yes to love,
Dr. Michael Arn and Dr. Ashley Arn